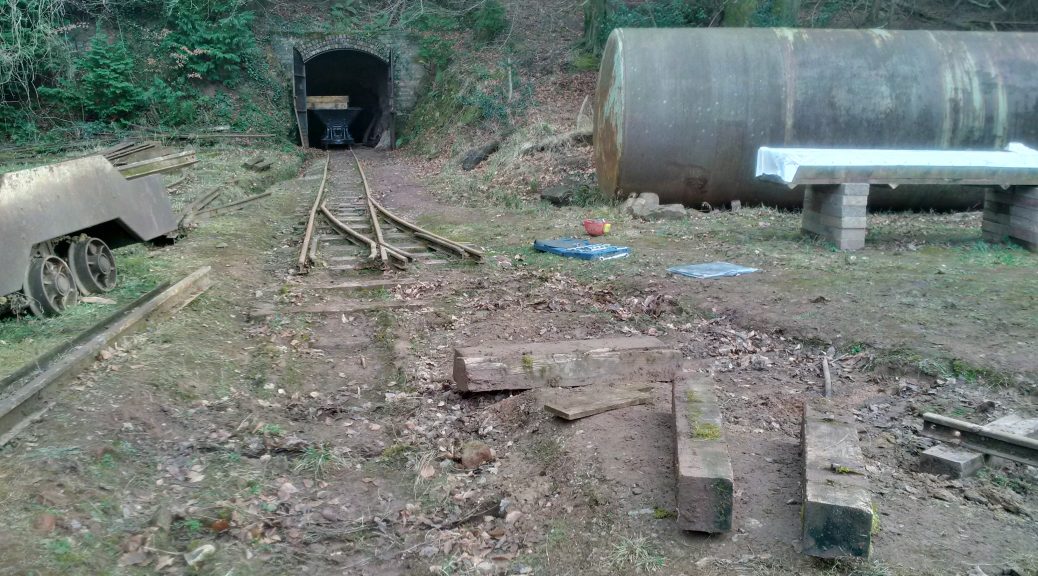 🛤 2018 Trackwork Project Under Way ?>
🛤 2018 Trackwork Project Under Way
Following last week's successful first move of the Eimco 24, our volunteers have turned their attention to the next project: renewing the section of track between the points outside the mine and the container. This section was laid when the railway was built in the mid-1990s and many of the wooden sleepers have rotted away after years of sitting in wet mud and mine waste. We have already completed a retaining wall to keep the edge of the embankment neat and tidy and to prevent erosion.
The original intent had been to start preparation works first, with track lifting to start the following week but as we had such a good turnout of volunteers, including Pat Clifford on a visit from Devon and Chris Crowley who braved the weather on his bicycle from Cinderford, a start was made and by the end of the day, most of the rails in this section had been lifted. It was questionable as to whether any of the fishplate bolts would come off easily (or at all) after over 20 years with no maintenance but Nick's ¾"-drive socket set performed admirably, with a long extension bar being used to start the 30mm nuts on the heavy rail section.
At the end of the day, one curved section of track had been removed, and all of the straight rails with two exceptions: the last section which sits on a concrete pad and supports the rails coming out of the container; and the other being a removable track panel with metal sleepers which had been made to allow access by Forestry Commission contractors. These will be moved next time before the digger comes in to carry out the groundwork in preparation for ballast.