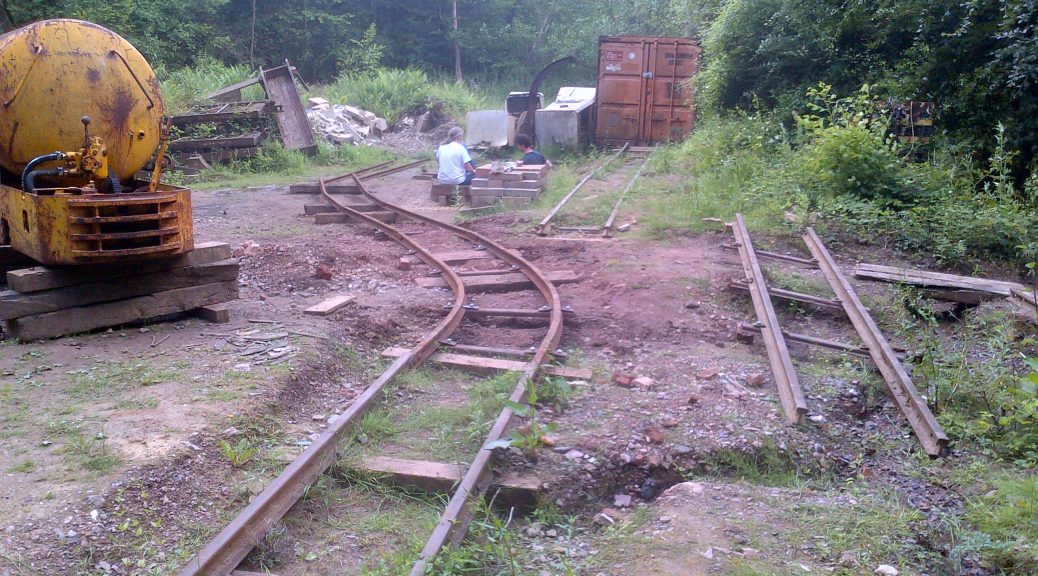 ⛏ Rocks by Rail (Part 1) ?>
Getting the big corrugated tin shed at Lea Bailey into a fit condition to be used as a workshop is somewhat of a long-term project, so a quicker way of getting somewhere reasonably secure and out of the weather is to get another container. Where to put it? If it was placed next to the existing container, then some of the surplus rails and bits of steel could be used to bridge across between the two and make an undercover area for other essential activities, like enjoying tea and cake on a Sunday afternoon.
With the two halves of the pit wheel out of the way, a further investigation of the top of the old mine tip revealed a large quantity (several lorry-loads) of stone, ranging from dust and pebbles right up to boulders weighing over a ton. It's not a leftover from the days when Bailey Level was mined for gold or iron — it's the wrong kind of rock to be local to the immediate area — but we suspect it to be quarry waste which was brought in during the early days of the Lea Bailey project to be used either as hardcore or as building material. We intend to utilise it for both of these purposes!
Because most of the stones are dressed on at least one face, we want to turn the rockpile into a stockpile and use it for future building projects. We have a railway which serves us well for moving bulky materials, but it doesn't quite reach the loading area. Lacking a spare set of points, we decided to utilise the removable section of track which was put in place to allow Forestry Commission contractors to access the woods around Lea Bailey for clearance work last April. Over a couple of weekends, a curved section of track (also designed to be removable) was made up using some steel sleepers and the Jim crow. It rests on wooden sleepers set into the ground but it is not spiked down, allowing it to be lifted out once the fishplates have been unbolted. The rest of the temporary track leading to the rock piles will be left in place until the works have been completed.
Further Reading