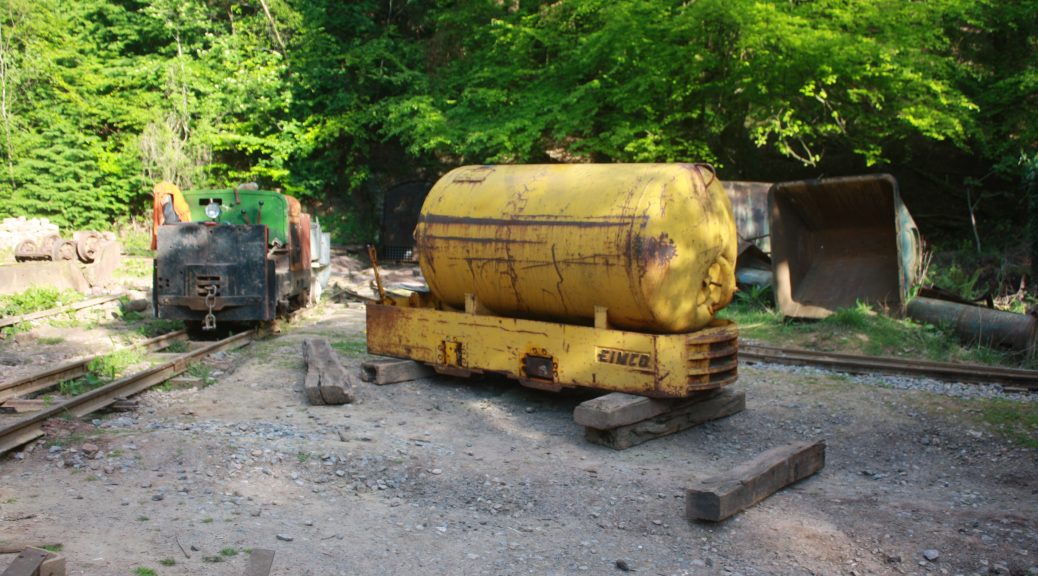 If you were a mine operator then a compressed-air locomotive such as the Eimco 401 would be a very useful thing. Most underground mines would already have a compressor to power the air tools and the 401 was designed to be easily convertible between the two popular rail gauges of 18″ and 2ft. Of course "easily" would be dependent on a number of factors, such as a fully-equipped heavy engineering workshop, skilled workers with experience of the task in hand, and a programme of regular maintenance and cleaning. Carrying out the same job outdoors in a forest on a locomotive that has been stored out of use for some time is a completely different kettle of fish.
Before any attempt could be made to remove the wheels, the drive chains would first have to be disconnected. A build-up of old grease and a layer of dried mine-waste was certainly not useful! Even with the chains out of the way, the wheels would not come out without a fight. The wheels are fitted to the axles with a set of spacers which can be removed and re-installed in two different configurations depending on the gauge required. They are "outside" the wheels for 18 inch gauge so to convert to 24 inch would require them to be re-fitted "inside" the wheels. Of course to do this one must first get the wheels off the axles. Even the largest sledgehammer and heavy block of wood only managed to move one wheel about an inch in an afternoon so a different solution was needed. Our local narrow gauge railway engineer Alan Keef was given the task and apparently the ex-Simplex wheel press required abround 40 tons of force to get the wheels off!
A number of compressed-air fittings have been obtained and are stored off-site ready for use. Another important job before the locomotive can run will be to hydraulically test the pressure vessel and have it certified by a professional inspector. Our volunteers are working on this behind the scenes, and we are having a special fitting made which will let air out as the vessel is filled with water in order to carry out the hydraulic pressure test.