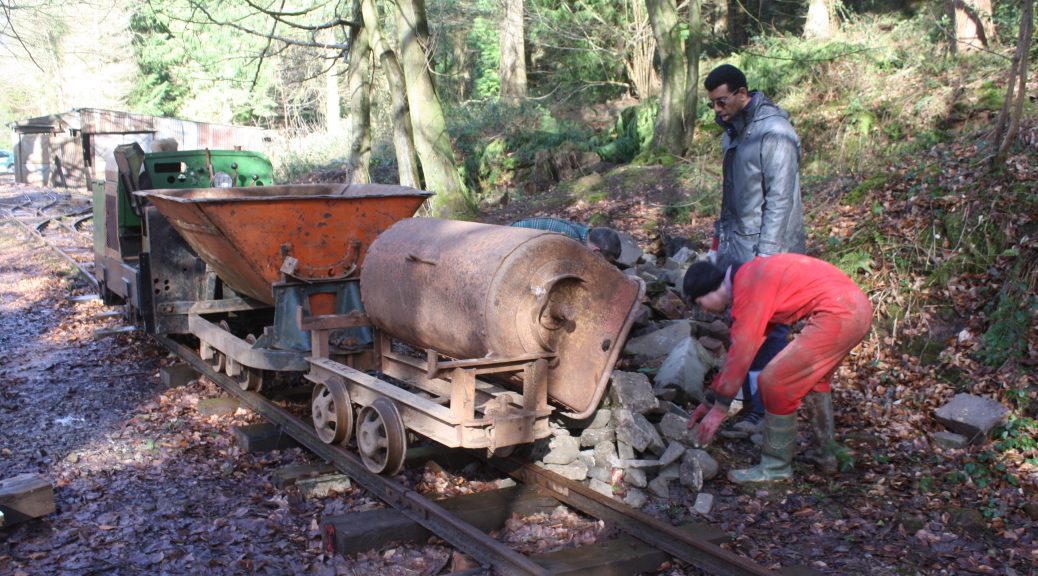 Some time ago, the Lea Bailey Light Railway arranged a wagon exchange. One of the Hudson u-skip wagons stored at Clearwell Caves was swapped with Brian Faulkner (owner of a private 2-foot gauge railway nearby) for a v-skip to be used at Lea Bailey. The tipper had seen better days, and in early 2016 a replacement skip was sourced from Alan Keef Ltd. and fitted as part of our Winter Works programme. The old skip was stored with the hope that it could be repaired and re-used in the future, along with the spare pedestals that came with the new skip.
Richard Dixon is another of our members who has his own 2-foot gauge railway, and had a Hudson skip chassis that he had purchased as part of a job lot and was surplus to his requirements. This was purchased by the society and stored awaiting repairs. Recently, it was decided to assemble the kit of parts into an operational wagon. Some new bolts were obtained and Nick fitted the pedestals to the wagon chassis and after a liberal application of oil to the wheel bearings it was propelled around the track to the mine entrance where the spare skip was in storage.
With the help of some old sleepers, the tipper body was rolled onto the chassis, and we now have another useful wagon in the fleet. We are planning to clean it up with a wire wheel and apply some black  bitumen paint in order to protect it from further deterioration, and eventually the rusted parts of the chassis and skip will have some welding done. Another wagon being prepared for painting is the converted coal tub manrider, which was swept out by our new young volunteer James. We are also planning to clean up and paint some of the structures on site such as the shed, container and tank, so new members and volunteers are always welcome.