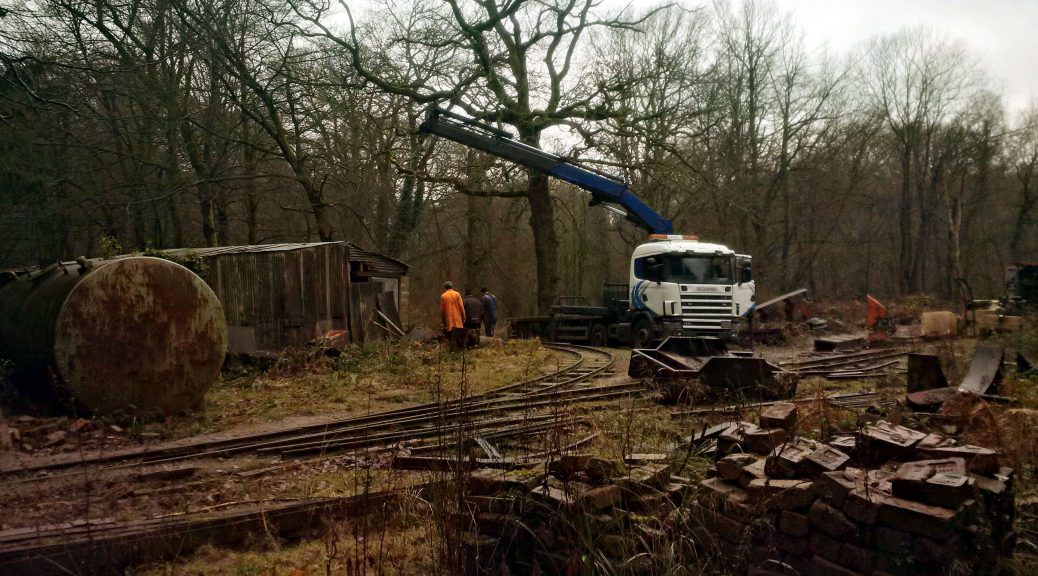 👷 The Grand Tidy Up, February 2017 ?>
👷 The Grand Tidy Up, February 2017
⚖ There are some things that are just too heavy to be moved with a Tirfor winch, and the Lea Bailey Light Railway has a large collection of these things. Despite the term "light railway" being part of our name, a lot of the old mining equipment in our collection is of a heavy-duty nature and therefore requires a little more than man-power for mechanical handling. The first items to be moved were two sets of 3-car articulated manriders, which would have originally been used to transport miners underground from the bottom of the shaft to the working face. Using this method instead of requiring them to walk saved time to allow more productive time per shift, and also allowed each miner to put more effort into mining rather than walking. The long-term aim is to restore one set using the other as a source of spare parts, with leftover steelwork being made available for other projects.
? Another ex-mining rail vehicle consists of two 4-wheeled bogies which were originally connected in the centre and used for carrying heavy materials. It is envisaged that the running gear such as wheels and bearings can be re-used to make a couple of useful works wagons for the railway. We also have a different kind of manrider, which would have used a 4-wheeled chassis or short bogie vehicle, but currently consists of just the top section. It is hoped to mount this on one of the old wagon bases from Euroclydon Tunnel once the frame has been restored.
⭕️ By far the largest and heaviest objects are the two halves of the old winding wheel from Sharlston Colliery in Yorkshire. This was actually the "spare" which was kept on site in case of any damage or mishap to the original, which was used to haul coal and transport miners up and down the shaft. After the colliery closed in 1993 one half of the original was mounted on a brick and concrete plinth as a memorial to all the miners who had worked there.
? The eventual aim (subject to planning) is to mount the two halves of the wheel — one on each side of the entrance — in a similar fashion to the one at Sharlston. In the short term, however, the site looks a lot neater, and we can now start work on the next phase of clearing the top of the old mine tip. This in turn will allow a small workshop and more siding space to be installed, and bring about further restoration of our railway and mining heritage.