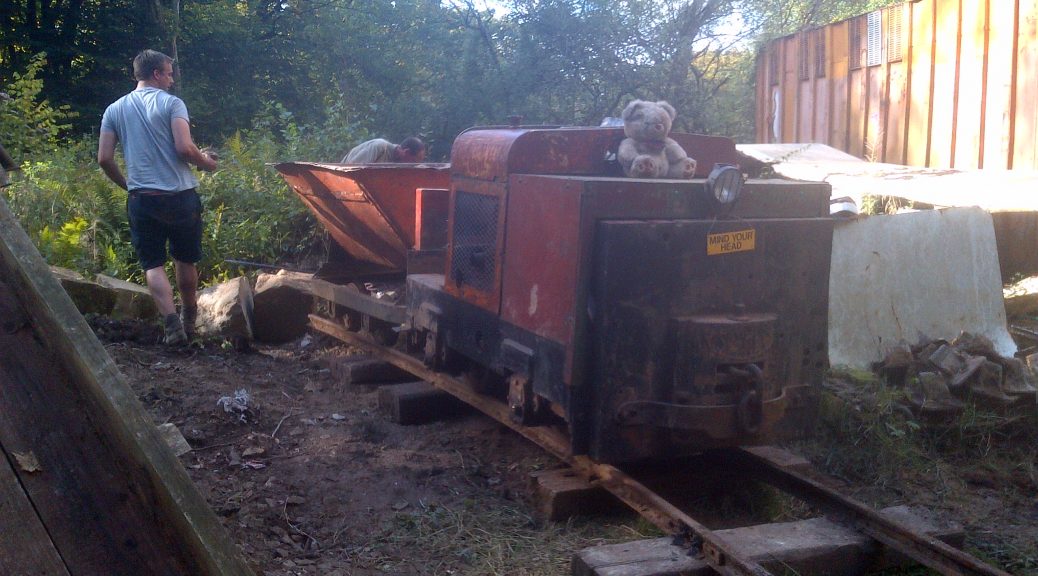 ⛏ Rocks by Rail (Part 2) ?>
⛏ Rocks by Rail (Part 2)
During our recent September Open Weekend, our volunteers took the opportunity to work on the temporary track which extends on to the top of the old mine tip. With four locomotives in operation (Simplex, Lister rail-truck, WR8 and Eimco 401) there was plenty of activity for our visitors to see, including the first public run of the Eimco compressed-air locomotive. Saturday was the busiest day in terms of visitors due to the Steam Up at Alan Keef Ltd. in Lea, and much of the day was taken up with running trains in various configurations and with driver-training on the Simplex for new members.
Sunday was a quieter day and allowed more time for working on the railway, which nevertheless provided a number of interesting activities for our visitors to watch. It also allowed Rob, our resident photographer, to come out from behind the sales stand and take some footage (mainly video in this case) of the goings-on. With a higher-than-usual number of active volunteers on site, the Hudson v-skip was quickly loaded with rocks and transported to the far end of the line, where a second temporary track was laid, accessed by a new addition called an easy-turnout. Manufactured by Hudson, it is made from pressed steel and fits on top of the rails, allowing a wagon to ride up and balance itself over the central pivot, before being turned by hand and lowered onto another track at almost any angle — in our case 90° to the main line.
With the rockpile substantially reduced, there was space for another pair of rails to be added. Once laid and tested the wagon was refilled and emptied several times with the haulage being shared between all four locomotives, including the Simplex which is the heaviest currently on site.
On the following weekend we changed our usual working day from Sunday to Saturday, partly to allow a visit to The Brewery Tap afterwards to discuss the previous Open Weekend and to discuss plans for the next one (13th & 14th May 2017). Our volunteers split into two teams with one group shovelling silt out of the shed into a U-skip and hauling it off to be tipped using the WR8 battery-electric locomotive, with the other group loading rocks into the V-skip and using the Simplex. Two separate tip sites (one on either side of the main line) were accessed using the portable turntable.
Video Clips
Two videos were produced at the Open Weekend, the first from Saturday 17th September and the second from Sunday 18th. Both were filmed by Rob Needham.
Further Reading