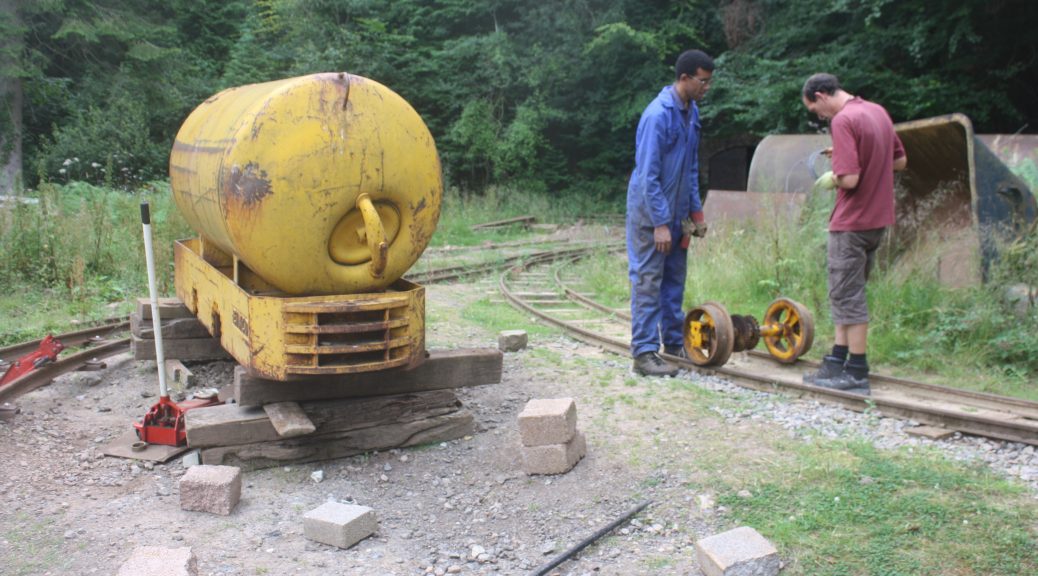 🛤 Back on Track and Under Pressure ?>
🛤 Back on Track and Under Pressure
With the wheelsets for the Eimco 401 back on site and re-gauged to 24″ the next task was to get them back into the frames. To say they were a tight fit is an understatement. Both sides had to be raised equally to avoid the axle boxes jamming in the horn guides. The wheelset nearest the driver's position — which we have taken to calling the rear of the locomotive — was the easier (or least difficult) of the pair due to the presence of the adjuster bolts which are used to tension the drive chain.
The springs on the front wheelset are a bit "saggy" and may end up being replaced, but as a temporary solution the locomotive has been levelled with two wooden packing blocks. Once all the bolts were tightened up the faces of the tyres were cleaned with the aid of a grinder and polished with emery tape to remove any high spots and prevent them from rubbing on the frames. All that was left to do was slide the locomotive slowly onto the rails and park it up in preparation for the next task.
Before a pressure vessel can be tested with air, it needs a hydraulic test to verify the structural integrity. If there were any leaks or weak spots this would show up by the egress of water and avoid the risk of an explosion. Of course to fill the tank with water the air needs to be removed so a special air bleed pipe was made which required the locomotive to be tilted over and a small hole dug underneath in order to fit it.
The water was pumped in using Nick's petrol powered fire pump from our own supply which flows out of the mine and is crystal clear as long as nobody has stirred up the silt by walking along the drainage channel! Once full, a special pump was used to pressurise the system to 165 psi which is 1½ times the working pressure of 110 psi.
After verifying the pressure reading and visually confirming that there were no leaks we were able to call in a professional to carry out the necessary pressure test and visual inspections to certify the pressure vessel (see video clip below). The next job will be to connect the drive chains and test the air motor which was blanked off for the test.
https://www.youtube.com/watch?v=mH81hUe5uj8